Félicitations à Louise Symonds (Townsville Grammar School, QLD) et Yvette Pinto (Bellevue Heights Primary School, SA), heureuses gagnantes du concours 2022!
Grâce au soutien du CREIPAC et de Air Calin, les heureuses gagnantes passeront une semaine en Nouvelle Calédonie!
Les unités de travail de ces professeures sont disponibles – cliquez sur les liens ci-dessous pour y accéder
Concours pour les professeurs de français en Australie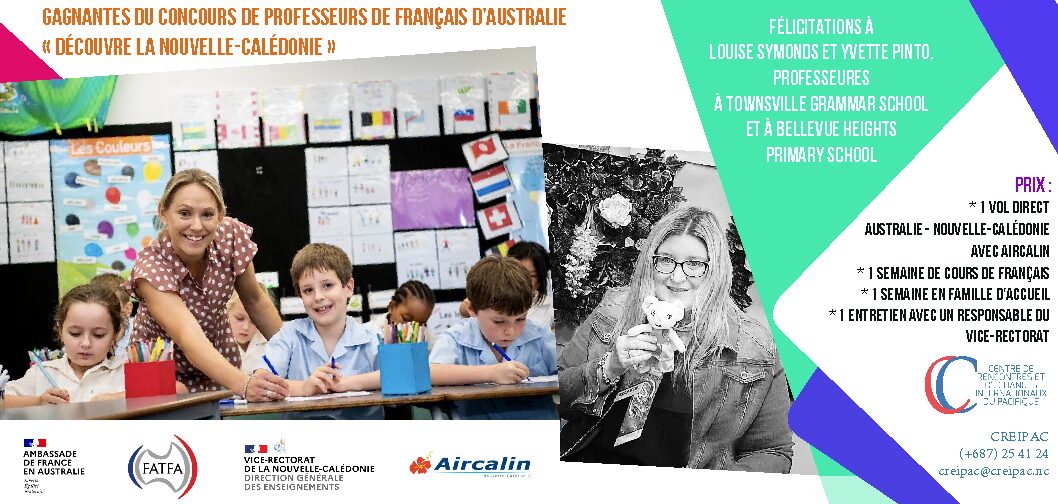 Concours pour les professeurs de français en Australie
Task: To develop a sequence of teaching and learning [1] that focuses on a topic associated with La Nouvelle Calédonie (New Caledonia).
Target audience: Teachers may enter either in the Junior category (Years 5-8) or the Senior category (Years 9-12). Teachers who wish to develop a unit of work for Year 9 may only enter the Junior category if their students start studying French in Year 8 or 9 (explanation required).
Eligibility: This competition is open to teachers of French currently teaching French as a second language in the Australian education system. Teachers may be using a range of methodologies (including AIM or CLIL). Teachers working in bilingual schools or in schools that follow the French curriculum (in part or fully) are not eligible.
Award: A prize in each category (Junior and Senior) will be awarded. The prize includes a return air ticket to New Caledonia together with a homestay in a famille d'accueil for a week and language classes at the CREIPAC in Noumea. Laureates will also get a chance to visit local schools in consultation with the Rectorat de la Nouvelle Calédonie. Laureates will be invited to the Forum de la Francophonie organised by the CREIPAC. This is scheduled to take place in early October 2022 (exact date tbc). Alternatively, laureates can negotiate with CREIPAC to select a different week.
Each laureate will contribute to a Professional Learning (PL) session in 2022/23 to share their experience, resources and knowledge with Australian colleagues. This PL may be organised with their state association or with the FATFA.
Timeline: The competition will be launched in February 2022. A free online information seminar will be held in March 2022 during which stimulus for themes and approaches will be presented and questions answered. Teachers will then register their interest to participate in the competition, which will give them access to a range of resources to start on their project as well as the link to upload their project. There is no set theme beyond the link with New Caledonia.
Other requirements: By submitting a sequence of learning to the organisers of the competition (FATFA, CREIPAC and DAREIC) you acknowledge and accept that your work might be uploaded to the FATFA website as a free pedagogical resource to be shared with the Australian teaching community. Individual authors (as well as their school upon request) will be duly acknowledged.
Copyright/Acknowledgements: Third-party material used in the learning sequence (e.g. YouTube videos, website, maps, photos, colouring activities, magazine articles, songs etc.) must be adequately referenced and acknowledged. Copyright-free material is preferred.
Australian Professional Standards for Teachers (APST): A certificate of participation will be issued to participants upon submission of their unit of work so that PL may be claimed.
[1] A 'sequence of teaching and learning' may also be described as a 'unit of work', depending on the terminology employed in your state